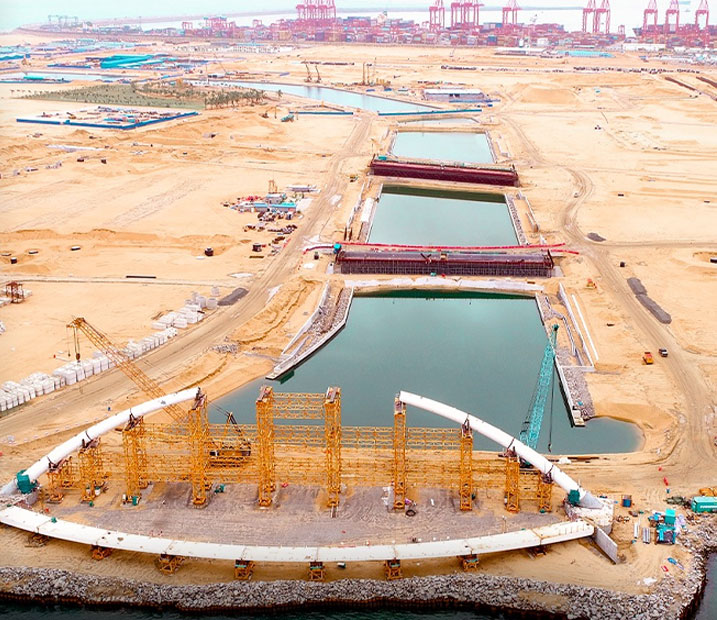 The Colombo International Financial City (CIFC) is a special financial zone and an international financial center located in Colombo, Sri Lanka, and is currently under construction on a landfill adjacent to the Galle Face Green. The Port City of Colombo will be a modern city district with employment opportunities for about 40,000 residents. The land between the old town center and the new industrial port includes the city district's housing, schools, offices, hotels, and commercial space. Colombo Port City Development is a large-scale land reclamation project of over 200 hectares. The land is protected by a low sloping offshore breakwater of more than 3 km in length. CDR International BV provides planning assistance for landfill and marine operations for this complex landfill plan.
The vision of this expansion Building a world-class city for South Asia. Developing the most livable city in South Asia, building a healthy environment with future-ready infrastructure to build on sustainable values, improving the quality of life, building a model city that offers the highest quality commerce, entertainment, medical, education, and lifestyle opportunities Can be referred to as purposes of this project. The inaugural ceremony of this project was launched in October 2014 with a revised plan. The city is scheduled for completion in 2041. The budget is estimated at the US $ 15 billion.
CHEC Port City Colombo (Pvt) Ltd through China Harbour Engineering Company is part of China Communications Construction Company Limited. CCCC is a world leader in port design and construction, road and bridge design and construction, excavation, container cranes and heavy machinery manufacturing. In addition, CCCC has extensive building experience and is a leading real estate investor and developer. The CCCC has been actively involved in the development of Sri Lanka since 1998, implementing massive construction projects such as the Southern Expressway, Outer Circular Highway, Hambantota Port, Mattala International Airport, Colombo South Container Terminal and other major infrastructure projects.